"I get books to read and then ultimately share my thoughts about with my readers. As much as I want to, I can't possibly read every book I receive. Yet, I still wanted a way to feature those books on the blog, even though it might not be in the form of a review. Problem solved! Every week I'd share the books I received that week... ones I'd bought, or gotten at the library, and ones that I'd receive to review on the blog. That way I could mention titles that might not otherwise get some face-time on The Story Siren..."
I find the same thing happening at A Backwards Story. I'm so backed up on reviews atm... That's why I like these videos!

CURRENT GIVEAWAY:
*
CINDERS
by Michelle Davidson Argyle
(International)
[Ends January 31st]
*
CINDER
by Marissa Meyer
(US/Canada)
[Ends January 25th]
(And this week for A Week of Cinderella, I featured giveaways of Marissa Meyer's CINDER being run by
Mermaid Vision Books
and
Confessions of a Common Reader
. Keep following Marissa's tour (I've attached the dates/blogs at the bottom of my
blog tour stop
) for more chances to win!!

FEATURES THIS WEEK (A Week of Cinderella event):
Loot:
The Cinder(ella) edition!!!
I'm posting a complete event round-up (though you can also see all the posts that hit this week above. There were a TON, more than I ever anticipated! Enough to fill TWO weeks!!!) today as well!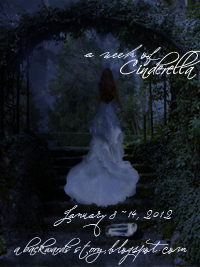 *Mockingjay pin (gift, thank you!!)
*
RED
by Dia Frampton (CD; second place winner of last year's THE VOICE. I normally don't watch such shows, but she's one amazing singer!!)
*Awesome
DON'T BREATHE A WORD
by Holly Cupala street team swag
What did you get in your mailbox this week?