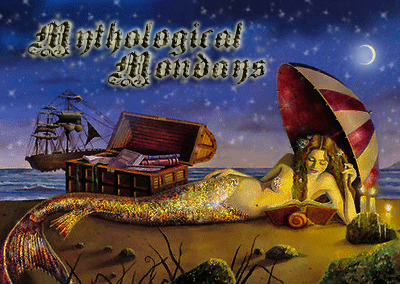 Mythological Mondays is a feature I created to spotlight books brimming with--you guessed it--mythology! I adore this sub-genre and can't wait to share my love with all of my fellow bookworms! This feature isn't just focused on novel reviews; it may also include interviews, looks at original mythological tales, etc. Please feel free to do this with me! If you guys ever do a mythological feature and want to join this and snag my lovely mermaid, I would LOVE to see the feature. Leave a comment for us all to see! It doesn't have to be Greek mythology, or even mythology per say. It can be mermaids, unicorns, or heck, even fairy tales (because I'm too lazy to do a separate fairy tale feature…). It doesn't even have to be every Monday. I'm sure there will be Mondays when I skip, too!
So today's post features brand-new information on Rick Riordan's upcoming fall release THE MARK OF ATHENA, the third (and middle!) book in THE HEROES OF OLYMPUS series (For those not paying attention, the sequel series to PERCY JACKSON & THE OLYMPIANS).
Last weekend, Rick Riordan revealed the cover to THE MARK OF ATHENA on his blog, but I didn't feature it last week because I figured you'd want a giveaway more! (Have you entered to win GODDESS INTERRUPTED? Giveaway is about to end!!)
The summary is also up on Goodreads!
I think it looks awesome!! And that cover....! Are the two camps going at it? Are they about to work together? Whose eyes are those in the background? During the
reveal
, Rick Riordan mentioned that there's a new website launching soon,
GreeksVsRomans.com
. Ack, what's going to happen??
You can read the first chapter online at Disney Hyperion's Official Website!
Read it now...if you dare!
(I can't decide if I have the courage to read it early or not, as much as I want to...especially after seeing the summary below!!!!)
What do you think? Does this book sound like it will be epic (and totally make up for THE SON OF NEPTUNE's second-book syndrome) or what???
Title: THE MARK OF ATHENA
Author: Rick Riordan
Release Date: Out Oct. 02, 2012
Publisher: HarlequinTeen
SUMMARY:

Annabeth is terrified. Just when she's about to be reunited with Percy—after six months of being apart, thanks to Hera—it looks like Camp Jupiter is preparing for war. As Annabeth and her friends Jason, Piper, and Leo fly in on the Argo II, she can't blame the Roman demigods for thinking the ship is a Greek weapon. With its steaming bronze dragon masthead, Leo's fantastical creation doesn't appear friendly. Annabeth hopes that the sight of their praetor Jason on deck will reassure the Romans that the visitors from Camp Half-Blood are coming in peace.


And that's only one of her worries. In her pocket Annabeth carries a gift from her mother that came with an unnerving demand: Follow the Mark of Athena. Avenge me. Annabeth already feels weighed down by the prophecy that will send seven demigods on a quest to find—and close— the Doors of Death. What more does Athena want from her?


Annabeth's biggest fear, though, is that Percy might have changed. What if he's now attached to Roman ways? Does he still need his old friends? As the daughter of the goddess of war and wisdom, Annabeth knows she was born to be a leader, but never again does she want to be without Seaweed Brain by her side.


Narrated by four different demigods, The Mark of Athena is an unforgettable journey across land and sea to Rome, where important discoveries, surprising sacrifices, and unspeakable horrors await. Climb aboard the Argo II, if you dare. . . .