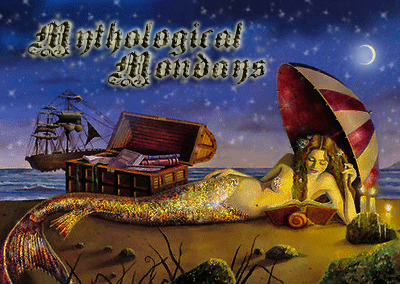 Mythological Mondays is a feature I created to spotlight books brimming with--you guessed it--mythology! I adore this sub-genre and can't wait to share my love with all of my fellow bookworms! This feature isn't just focused on novel reviews; it may also include interviews, looks at original mythological tales, etc. Please feel free to do this with me! If you guys ever do a mythological feature and want to join this and snag my lovely mermaid, I would LOVE to see the feature. Leave a comment for us all to see! It doesn't have to be Greek mythology, or even mythology per say. It can be mermaids, unicorns, or heck, even fairy tales (because I'm too lazy to do a separate fairy tale feature…). It doesn't even have to be every Monday. I'm sure there will be Mondays when I skip, too!
D
rop by the end of this post for a
giveaway
of GODDESS INTERRUPTED!
C

ALLIOPE TRUDGED THROUGH THE SUNNY FIELD AS she ignored the babble of the redhead trailing behind her. Ingrid was the first mortal who had tried to pass the test to become Henry's wife, and maybe if she'd spent more than five minutes with her, Henry would've understood why Calliope had killed her.
(pg. 9, US Paperback 1st Edition)
Do yourself a favor. If you haven't read THE GODDESS TEST, stop reading this review and go
read my write-up
on the first Covenant novel instead. Otherwise, you're in for a world of spoilers. You have been warned!
Let me begin by saying that I was unsure what I'd think when reading GODDESS INTERRUPTED. I'd been a bit let down by THE GODDESS TEST because I'd built it up so much in my head and was anticipating miracles. I'd heard mixed reviews about GODDESS INTERRUPTED, and knowing that Aimée Carter's mythology was looser, I went into the book without any preconceptions. I took the story at face value for what it was, and as such, was able to enjoy it more than I did Carter's first novel.
For one thing, there's a lot more going on now that Kate has married Henry (Hades, for anyone who hasn't read the book or forgotten who the characters are) and descended into the Underworld. The novel starts off with a bang as the traitorous Calliope (Hera
...and if you're still reading this without having read the first book, SHAME ON YOU!!! This is a huge spoiler...
) is forced to make amends with all of the girls she's murdered in the past. She's even unleashed Cronus, a Titan who can destroy the immortal gods and devastate humanity. Cronus manages to kidnap Henry and his brothers (Walter/Zeus and Phillip/Poseidon), leaving it up to Kate to go on a quest with Ava/Aphrodite and James/Hermes to find Henry's first wife, the traitorous Persephone, who is the only person aside from Henry to know the ins and outs of the Underworld.
There's a lot of focus on relationships in GODDESS INTERRUPTED, and a lot of tension revolving around Henry's motivations. Does he actually love--or even like--Kate, or did he merely marry her out of obligation? What will happen when and if Persephone re-enters the picture? At times, Kate's insecurities get tedious, but at the same time, it's easy to relate to wondering what the person you're in a relationship with is feeling if s/he never talks about it. Kate wants to make sure that she's taking up the position as Queen of the Underworld for the right reasons and not in for an eternity of a loveless marriage, which her relationship with Henry is looking to be. GODDESS INTERRUPTED has many new twists, turns, and complications than its predecessor did and Carter is gifted at coming up with cliffhangers that will have readers wanting to pick up the next book and see what lies in store for the characters next.
I like the way both books in the series resemble one another. The first thing I noticed was the way they both used the same boxy pattern overlaying the image. The font for the title is the same--and the same color, too. I like that "G" and "D" are curly on this cover the way the "G" and "T" were on the first book. Both books also take place outdoors, featuring a lot of green scenery and a model in a white dress with a headpiece and silver armlet.
While the model seems lost in the first book, she appears to be more certain this time around. Her expression is still uncertain, which reflects Kate's feelings in the book, but she's not afraid to go off into the foliage, come what may, rather than lying down and giving up. She's in the fight this time around!
Title: GODDESS INTERRUPTED
Author: Aimée Carter
Release Date: Out Now [March 27, 2011]
Publisher: HarlequinTeen
Received: Finished Copy from HarlequinTeen for review
SUMMARY:

KATE WINTERS HAS WON IMMORTALITY.


BUT IF SHE WANTS A LIFE WITH HENRY IN THE UNDERWORLD, SHE'LL HAVE TO FIGHT FOR IT.


Becoming immortal wasn't supposed to be the easy part. Though Kate is about to be crowned Queen of the Underworld, she's as isolated as ever. And despite her growing love for Henry, ruler of the Underworld, he's becoming ever more distant and secretive. Then, in the midst of Kate's coronation, Henry is abducted by the only being powerful enough to kill him: the King of the Titans.


As the other gods prepare for a war that could end them all, it is up to Kate to save Henry from the depths of Tartarus. But in order to navigate the endless caverns of the Underworld, Kate must enlist the help of the one person who is the greatest threat to her future.


Henry's first wife, Persephone.
HarlequinTeen is giving away a finished copy of GODDESS INTERRUPTED to one lucky reader from the US/Canada!
Contest ends on June 12, 2012!