Welcome to Will You Rise or Will You Fall? in honor of heroes, villains, and even sidekicks!
Stop back all week long for fun author interviews, exciting giveaways, reviews,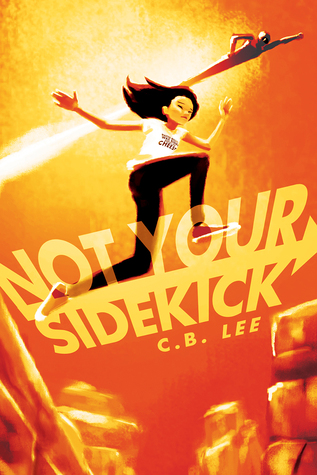 J
ESS GRITS HER TEETH, going for a running start. The gravel on the trail crunches under her feet, the wind rushes through her hair, and she can taste success. This time. This time, she's gonna make it.
The canyon is streaked with color, warm in the afternoon light; golden striations race across the signature rusty reds of the landscape. The sky is a gorgeous, impossible blue, and clouds flutter down the endless horizon, a perfect backdrop for a first flight.
Every step resounds in her body, and her heart races. Blood pounds in her ears.
Flight.
One of the rarest of abilities. Jess' dad can fly, and her older sister inherited the gene. Why not Jess?
Why not me? I could be a hero, Jess thinks as she picks up speed.
(
P

age 1-2, US ebook edition)
"
My abilities,
" Jess says, determined. "
I might not know what all of those are, but I'm going to be good at something, you'll see.
"
~Jess, NOT YOUR SIDEKICK
I don't generally read a lot of superhero stories, but when I do I'm always most drawn to the stories that break the idea of being a superhero down and make it gritty, complicated, relatable to as a parallel to the every day experiences of the readers. NOT YOUR SIDEKICK, by C.B. Lee does this so beautifully. In a dystopian version of what was once the United States, the world has been devestated by solar flares and a resultant WWIII. Humanity is struggling to heal and move forward, but one of the apparent silver linings to all the horror is the emergence of meta-humans as a result of the solar flares. Meta abilities are genetic, passed from parents to children, but aren't always guaranteed. Our main character, Jessica Tran lives in a family of successes. Her mom and dad are the the town's resident superheroes, her sister inherited abilities from both of them, her brother is a super genius, and Jess feels invisible and disappointed in her assumed destiny as the moderately mediocre outsider. Of course with her family history she idolizes superheroes and would love to present with powers, but you can feel that underneath that she's just desperate to have any talent that makes her standout, that gives her a sense of community and belonging and having a part to play in the world around her.
The decision to apply for an internship at a famed technology corporation is an act inspired by that desperation. Add a small side of spite when she learns she's actually interning for her super parent's villainous archnemisis and things get a little more complicated. For dessert there's the cherry on top of Jess navigating a work/friend/maybe more than friends if she can get over her nerves relationship with a secret crush and let me tell you I could read an ENTIRE story of just that arc alone. Oh, and did I mention the general angsty "let's add this to your coming of age growing pains" theme of learning that good and evil, villain and superhero are not as clearly defined as Jess has been lead to believe? This plot is rich with layers, my bookish friends, and the author is so good at giving each arc and each relationship attention and growth that stitches together into one overreaching read. You're also getting a richly diverse read with culture, sexual orientation, and gender identity all represented with an attention to detail that makes sure it doesn't feel like an afterthought but an organic part of a world that comes to feel very very real.
Some of my favorite highlights in this story revolve around the relationships between characters. While Jess can feel rocky with her position in her family sometimes, her big sisterly protective nature over her shy brother gave me so many feels I could barely stand it, and her parents are loving and nurturing albeit not always good at handling their daughter's lack of abilities. Then there's her relationship with her two best friends Emma and Bells and I swear to god I could read yet another side novella comprised of completely mundane every day adventures between this trio because their dynamic is so honest and makes me think of my closest friends. I love that every character gets a roll in the way the storyline grows, in a way that aptly fits the title there are no sidekick individuals in the town of Andover. No matter how long a person is on a page for their presence is fleshed and moves the storyline along and feels like a necessary part of the puzzle.
Jess and Abby, her longtime crush. Yeah, YEAH, just leave me here to make heart eyes at my babies and ship them to the end of time, the dialogue is so FREAKING ADORABLE and perfectly awkward in all the right places. Anyone who has ever walked that line of should I/shouldn't I, do they like me too, will relate to it so hard.
And then there's the storyline itself, the backstory of superpowers in a reimagined US is really cool and not something you see a lot of. There's classicism within the ranks of superheros themselves, much like the way we rate celebrities A list, B list etc, and the question of whether it's more important to have ABILITY or HEART is beautifully explored. Villains and Superheroes, the history of a world where those things are commonly existent is laid out for the reader in a way that makes it feel possible, like how it would go down if it was our distant future, with the lines being blurred depending on who the people drawing them are. Jess experiences what all teens do, that hard internal growth that comes with understanding the imperfections in the world around you, that nothing and no one is necessarily what they appear. And most importantly there's a message that abilities come in all shapes and sizes and they all matter equally when they're backed by a heart that cares fiercely and fights to protect.
You don't need super strength or the power of flight to get your hands on NOT YOUR SIDEKICK by C.B. Lee, just mozy on over to your favorite book provider and get ready to be swept away.
C

O

N

T

E

N

T R

A

T

I

N

G

S
Content Ratings: highlight between ( ) for details
Romance:
PG 13
(
Kissing, making out, semi graphic sexual thoughts
)
Language:
PG
(
.No cursing
)
Violence: PG
(
.Typical superhero violence
)
Other:
(
.Issues of racism and classicism
)
The simplicity of this front cover is PERFECTLY hard hitting. The cover is reflective of the opening scene of the book, where Jess is trying to see if she can fly. As she jumps, there is a superhero flying above her to represent the dreams and ideals she's being held up towards, the pressure overtop her head. The aspect of the storyline that resonated with me the most is beautifully illustrated in this cover.
Title: NOT YOUR SIDEKICK
Author: C. B. Lee
Release Date: September 8th, 2016
Publisher: Duet Books
Received: Purchased
Welcome to Andover… where superpowers are common, but internships are complicated. Just ask high school nobody, Jessica Tran. Despite her heroic lineage, Jess is resigned to a life without superpowers and is merely looking to beef-up her college applications when she stumbles upon the perfect (paid!) internship—only it turns out to be for the town's most heinous supervillain. On the upside, she gets to work with her longtime secret crush, Abby, who Jess thinks may have a secret of her own. Then there's the budding attraction to her fellow intern, the mysterious "M," who never seems to be in the same place as Abby. But what starts as a fun way to spite her superhero parents takes a sudden and dangerous turn when she uncovers a plot larger than heroes and villains altogether.
GIVEAWAY
During Will You Rise or Will You Fall?,
we're giving away a book of YOUR CHOICE
from the event!
It could be NOT YOUR SIDEKICK!
This giveaway is
INTERNATIONAL
to any country that Book Depository ships to. You can also claim an e-book as a prize; it doesn't have to be a physical copy!
You must be at least 13 years old to enter or have a parent's permission!