Love fairy tales and mythology?
Fans of mermaids, dragons, unicorns, and other mythical creatures?
Enjoy when a beloved classic tale is retold?
A Twist in the Tail Thursdays features all this and more!
Check out my blog every day for the next two weeks to see some great gift ideas!
Miss a day? Catch up now!
On the fourth day of Christmas, my true love gave to me...
Wintery Fairy Tale-Themed Gifts!
As you knoW, I loooooooove fairy tales. Since today is A Twist in the Tail Thursday, I wanted to bring my love of classic lore into the festivities.
I don't know about you, but I really enjoy reading wintery books during, well,
the winter
. (Likewise, I enjoy beach-themed books in the summer, books about howling wind on a windy day, etc.) One of my favorite fairy tales, the Norwegian classic
East o' the Sun, West o' the Moon
, is overflowing with ice and snow!
(So is another favorite,
The Snow Queen
, but I think we're all filled to the brim with that tale right now thanks to the
phenomenon that is
Frozen
.)
There are so many different great versions of this tale, and it makes a great gift if you want to share a fairy tale! It shares similarities with another favorite tale of mine,
Beauty and the Beast
(is it any wonder I love both?)
The Original Story
You can read the original tale for free on Project Gutenberg
, which offers several downloading options, so you can view the title on your computer or your e-reader.
Here's a look at a few versions of the tale that would make a great gift!
YA Retellings
Within the last decade, three YA authors have put their own spin on the story:
East
by Edith Pattou,
Sun and Moon, Ice and Snow
by Jessica Day George, and
Ice
by Sarah Beth Durst (which was one of the first books I ever
reviewed
).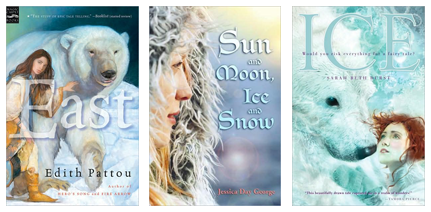 I enjoy all three renditions of the tale, and they all have something new to them. It's a close race, but I have to say that
Ice
is my favorite of the lot (Perhaps because I read it first?). I like that Durst put her own twist on the story and added an extra layer to it. Plus, her description is so good, you physically feel cold while reading the book because you're right
there
with Cassie. SUN AND MOON, ICE AND SNOW is a close second; it has the most
Beauty and the Beast
-like feel to it, as well as a beautiful amount of whimsy and spunk, and EAST is the most traditional, straight-forward retelling of the three.
New Adult Retellings
Last December, a New Adult version of the tale, MISTRESS OF THE WIND by Michelle Diener, released. Not only did I get to
review
it, but I was lucky enough to
interview Michelle
as well!
MISTRESS OF THE WIND is another very traditional version of the tale, though like the other versions, there are enough new elements to keep readers intrigued and on their toes!
Picture Book Retellings
Another beautiful version of the fairytale is the children's book illustrated by P.J. Lynch with the original English translation of
East of the Sun, West of the Moon
by Sir George Webbe Dasent: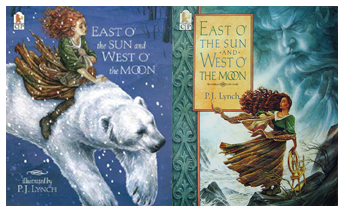 The illustrations are absolutely gorgeous. I love P.J. Lynch. Apparently, so do Sarah Beth Durst and Jessica Day George. Both authors referred to this version of the fairytale as the one that inspired them to write their own retellings when they interviewed one another in 2009 (
Durst's interview of George
and
George's interview of Durst
).
If you aren't convinced that this is a beautiful fairytale full of romance, sneak a peek at some of Lynch's illustrations: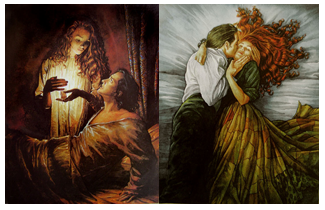 Gorgeous, right? You can preview larger versions of these images as well as scans from his other illustrated books on his
website
. He also posts his work on his
blog
, but I'll warn you that he does post nude art there as well. Sadly, this picture book is out of print, but you might be lucky enough to find a used copy at a local store or through an online shop such as AbeBooks...or even Amazon.
If, however, you're looking for a completely DIFFERENT version of the tale, check out EAST OF THE SUN & WEST OF THE MOON by Mercer Mayer (Best known for the
Little Critter
series).
For example, the tale mixes in elements of
The Frog Prince
. Got your attention there, didn't I?
While the illustrations aren't as lush and dreamy as Lynch's, the tale is still intriguing. Granted, it's not much like the additional tale, and reminds me of the way Disney might twist a story into something new, but that
newness
is what keeps me on my toes. The story isn't stale and simply rehashed, but rather a mash-up of something
new
.
To me, fairy tales ALWAYS make the perfect gift, especially icy cold ones that warm your blood in the winter!
Are you a fan of East o' the Sun, West o' the Moon?
What's your favorite retelling?