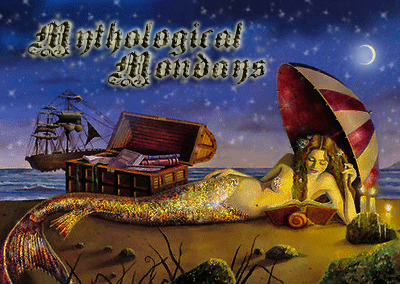 Mythological Mondays is a feature I created to spotlight books brimming with--you guessed it--mythology! I adore this sub-genre and can't wait to share my love with all of my fellow bookworms! This feature isn't just focused on novel reviews; it may also include interviews, looks at original mythological tales, etc. Please feel free to do this with me! If you guys ever do a mythological feature and want to join this and snag my lovely mermaid, I would LOVE to see the feature. Leave a comment for us all to see! It doesn't have to be Greek mythology, or even mythology per say. It can be mermaids, unicorns, or heck, even fairy tales (because I'm too lazy to do a separate fairy tale feature…). It doesn't even have to be every Monday. I'm sure there will be Mondays when I skip, too!
There are so many novels with Mythological components coming out tomorrow. I can barely keep track! In fact, there might even be more slipping through the cracks that y'all have to tell me about!

Which of these do you hope to read?
Author: Tera Lynn Childs
Publisher: Katherine Tegen Books / HarperCollins
SUMMARY:

Three teenage descendants of Medusa, now united, must claim their heritage to fight the monsters escaped from the abyss.

Gretchen may have known she was a descendant of Medusa long before her sisters--after all, she's spent her life fighting the monsters that escape the abyss--but that doesn't mean it will be easy to teach the other girls the ropes.

Greer has pressing social commitments on her plate and precious little time to train in her newfound powers. But that wretched second sight won't leave her alone, and her fabled heritage seems to be creeping into her fashionable life.

Grace has worries closer to home--like why her brother, Thane, has disappeared. He's hiding something. Could it possibly be related to the secret heritage the triplets share?

I'm a horrible person. I purchased SWEET VENOM last year and was dying to read it from the moment Tera Lynn Childs announced her series and...I have not read it.

To rectify this, I plan to read both books together this month.

But a series about the descendants of Medusa and the gates of hell? I seriously need to read this one SOON.
Author: Jackson Pearce
Publisher: Little, Brown Books for Young Readers
SUMMARY:

Celia Reynolds is the youngest in a set of triplets and the one with the least valuable power. Anne can see the future, and Jane can see the present, but all Celia can see is the past. And the past seems so insignificant -- until Celia meets Lo.

Lo doesn't know who she is. Or who she was. Once a human, she is now almost entirely a creature of the sea -- a nymph, an ocean girl, a mermaid -- all terms too pretty for the soulless monster she knows she's becoming. Lo clings to shreds of her former self, fighting to remember her past, even as she's tempted to embrace her dark immortality.

When a handsome boy named Jude falls off a pier and into the ocean, Celia and Lo work together to rescue him from the waves. The two form a friendship, but soon they find themselves competing for Jude's affection. Lo wants more than that, though. According to the ocean girls, there's only one way for Lo to earn back her humanity. She must persuade a mortal to love her . . . and steal his soul.
I did a
Flash Review
during Splash into the Summer highlighting the greatness of Jackson Pearce's latest offering. This one is more fairy tale than mythology, but it has roots in both, so it still counts!
I really enjoyed FATHOMLESS (And SISTERS RED and SWEETLY...) and am looking forward to picking up a finished copy to add to my collection!
Author: Michelle Paver
Publisher: Dial / Penguin
SUMMARY:

In the turbulent world of the Mediterranean Bronze Age, long before the Greek myths, a boy and a girl battle for survival.

With the help of three animal allies - a dolphin, a falcon and a lion cub - they defeat the forces of tyranny and withstand the elemental powers of the gods of land and sea.
I received an ARC of this one, but never had the chance to read it. When I finally was about to, I just wasn't in the mindframe for mythology. I'm hoping to finally read it this week!
This is a new series from middle-grade author Michelle Paver, who's also written the Chronicles of Ancient Darkness series that begins with WOLF BROTHER.
Author: Mitch Albom
Publisher: Hyperion
SUMMARY:

From the author who's inspired millions worldwide with books like TUESDAYS WITH MORRIE and THE FIVE PEOPLE YOU MEET IN HEAVEN comes his most imaginative novel yet, THE TIME KEEPER--a compelling fable about the first man on earth to count the hours.
The man who became Father Time.

In Mitch Albom's newest work of fiction, the inventor of the world's first clock is punished for trying to measure God's greatest gift. He is banished to a cave for centuries and forced to listen to the voices of all who come after him seeking more days, more years. Eventually, with his soul nearly broken, Father Time is granted his freedom, along with a magical hourglass and a mission: a chance to redeem himself by teaching two earthly people the true meaning of time.

He returns to our world--now dominated by the hour-counting he so innocently began--and commences a journey with two unlikely partners: one a teenage girl who is about to give up on life, the other a wealthy old businessman who wants to live forever. To save himself, he must save them both. And stop the world to do so.

Told in Albom's signature spare, evocative prose, this remarkably original tale will inspire readers everywhere to reconsider their own notions of time, how they spend it and how precious it truly is.
I love Mitch Albom and own all four of his books, which range from non-fiction to fiction.
I'm excited to see him put out a story based around the fable of Father Time. I think this sounds so interesting and whimsical. I'm really looking forward to this one!
Author: Elizabeth Fama
Publisher: Farrar, Straus and Giroux / Macmillan
SUMMARY:

Fierce, seductive mermaid Syrenka falls in love with Ezra, a young naturalist. When she abandons her life underwater for a chance at happiness on land, she is unaware that this decision comes with horrific and deadly consequences.

Almost one hundred forty years later, seventeen-year-old Hester meets a mysterious stranger named Ezra and feels overwhelmingly, inexplicably drawn to him. For generations, love has resulted in death for the women in her family. Is it an undiagnosed genetic defect . . . or a curse? With Ezra's help, Hester investigates her family's strange, sad history. The answers she seeks are waiting in the graveyard, the crypt, and at the bottom of the ocean—but powerful forces will do anything to keep her from uncovering her connection to Syrenka and to the tragedy of so long ago.
I was lucky enough to read this one early for Splash into Summer and
reviewed it
during the event. Elizabeth Fama also stopped by for a splashy
interview
!
This Thursday, she'll return to A Backwards Story as part of her upcoming blog tour. I'm really excited to take part and can't wait for all of you to read this one!