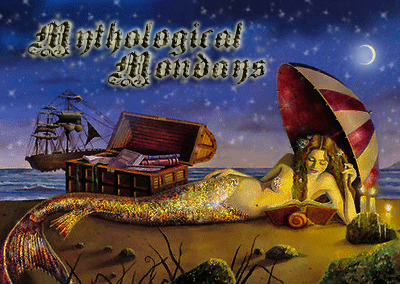 Mythological Mondays is a feature I created to spotlight books brimming with--you guessed it--mythology! I adore this sub-genre and can't wait to share my love with all of my fellow bookworms! This feature isn't just focused on novel reviews; it may also include interviews, looks at original mythological tales, etc. Please feel free to do this with me! If you guys ever do a mythological feature and want to join this and snag my lovely mermaid, I would LOVE to see the feature. Leave a comment for us all to see! It doesn't have to be Greek mythology, or even mythology per say. It can be mermaids, unicorns, or heck, even fairy tales (because I'm too lazy to do a separate fairy tale feature…). It doesn't even have to be every Monday. I'm sure there will be Mondays when I skip, too!
Sorry mermaid lovers, while SIRENZ are in the title, this series isn't about mermaids! But never fear, there's plenty of other mermaidy goodness happening during Splash today!
Keep reading for an awesome guest post on a fun mythological series.
Look out for my review once Splash concludes!
Charlotte Bennardo and Natalie Zaman are the authors of the SIRENZ series. Charlotte can be found on her
blog
and
Twitter
while Natalie can be found on her
blog
,
Facebook
, and
Twitter
. The authors also have a
website
for the series, where you can find other stops on the
SIRENZ: The Two Worlds Tour
!
When not playing with pointed objects, Natalie Zaman is usually writing. She lives in central New Jersey with her family and several fine looking chickens.
Lover of sparkly things, Char doesn't have as many shoes as she'd like, but wouldn't have time to wear them anyway with her three boys, husband, cat with issues, demented squirrels and insistent characters all demanding her time. She is represented by Natalie Lakosil of the Bradford Literary Agency and is hoping to get all her characters into print just so they'll be quiet.
Charlotte Bennardo
&
Natalie Zaman:
Sirenz, Short and Sweet
The SIRENZ series is all about Mythology. Short and sweet, here's what we kept, and what we didn't.
Just like the Classics…
All the gods/goddesses in their well-known roles, i.e. Zeus is still the leader, Hades rules the Underworld, Charon is the ferryman, Hermes the messenger—you get the idea.
Places like Mt. Olympus, the Underworld, Greece, the River Styx, the mortal realm exist just like Homer had it.
The Persephone-Hades story: she's his wife, much to Demeter's wrath.
Sirens, true to myth, were bird-women, not mermaids.
Our special twists…
Hades isn't satanic or death-like; he's smokin' hot in a sexy way!
The Underworld has a Vegas-casino style hell and a Garden of Death, but has pink sand beaches, lavender lakes, red mountains, and an all-white throne room.
Persephone wasn't tricked; she knew the score to be with Hades and uses it to her advantage!
First sirens manifestation was bird, second was—sorry! You have to read SIRENZ: BACK IN FASHION!
Last summer, I reviewed SIRENZ on another Mythological Mondays post. Check back soon for my review of SIRENZ: BACK IN FASHION after the conclusion of
Splash into Summer!
Title: SIRENZ: BACK IN FASHION
Authors: Charlotte Bennardo, Natalie Zaman
Release Date: Out June 08, 2012
Publisher: Flux / Llewellyn


It's Hell on heels--again.


When Shar tries on a ring from Hades, it activates an obscure contractual clause that puts Shar and former-frenemy-now-friend Meg in Hades' service once more. Shar is whisked away to the Underworld to prepare a ball for Persephone, while Meg is sent to retrieve the errant soul of spoiled rich girl Paulina Swanson and send her to the abyss. Just when it appears the girls will be doomed to serve Hades for eternity, Shar meets two possibly helpful demi-gods who also happen to be gorgeous. Can the girls finally ditch the Lord of the Dead once and for all?
And now, a chance to win!
Charlotte and Natalie have graciously created a prize pack for one winner with autographed copies of SIRENZ and SIRENZ: BACK IN FASHION for one lucky winner, along with some fun surprise swag!
You have until July 31st to enter!