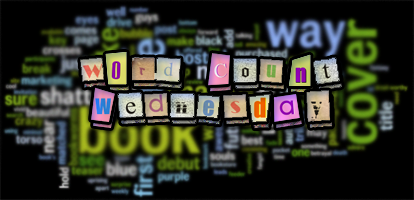 Word Count Wednesday is my way of sharing my weekly writing progress with you and holding myself accountable for not giving up.
So without further ado, this week's "Word Count" for Super-Secret Project/Codename: FIZZYPOP:
(Why Fizzypop? IDEK...it sounds fun!)
You all know I've been internally struggling with FIZZYPOP for about a year now. I'll pick it up, work on it, put it down for months, then rinse and repeat. I love my characters. I love the idea of what I'm doing. None of that is the problem. I'm just...unhappy with the genre I'm in. This isn't....me. I don't write this genre. Until I started actively trying to, I rarely even read anything in the genre. It isn't my favorite genre in the world unless the writing is deep and meaningful and leaves you with that
feeling
. FIZZYPOP doesn't follow that path, but the more shallow one. I really don't want to release something shallow upon the world. Or, at the very least, not as a first book.
I've been trying so hard to be a good girl and stick with it. I'm only a few chapters from the end of a finished draft. But...I've been at war with myself, too. In many ways, and for various reasons. The last time I did a WCW, I mentioned that I was unhappy. In the last couple of weeks, I've mentioned seriously considering letting go of FIZZYPOP, but I think people thought I was joking because I was blocked or something (which actually isn't the case at all).
I came to this decision yesterday. For the past few days, I've been re-reading GRACELING, and now I'm on FIRE. I remembered just why I love Kristin Cashore, why she's a favorite author of mine. I remembered why I love fantasy so much. This is my genre. I know that when (If?) I go to a local signing for BITTERBLUE tomorrow night, meeting Kristin will inspire me even further.
I don't know if I mentioned it here or not before, but a couple of months ago, I had the strangest, weirdest dream, which also led to an insane story idea. I still don't know exactly where I'm going, which is a little terrifying (and part of why I shouldn't be working on it yet, but...). At the same time, today I had a breakthrough on why one of my ideas will work, which led to a reality about the world I need to build, and it's actually kind of cool. And yes, still insane. But it could also lead to a book title if it sticks because it's also relatively intriguing. It gave me a line and the image of a scene. So now I have a bit of that scene, a bit of the opening, and small wisps of one element I want to weave in. Not much to go on, I know.
Author Caitlen Rubino-Bradway's debut novel, ORDINARY MAGIC, is coming out on May 8th. I've been talking to her through email and putting together something for a stop here on her blog tour. We were talking about world building and she shared this
amazing link
with me. It's a series of Fantasy Worldbuilding Questions from author Patricia C. Wrede. I had been googling for this sort of thing online, but never found anything so detailed as this.
(Caitlen, if you're seeing this, THANK YOU!)
To give you an idea of how huge this is, when I cut/pasted all of the sections into Word (with page-breaks between sections), I printed out a whopping 28 pages. I'm going to be spending quite a lot of time with these sheets over the next chunk of time (though perhaps not as much as I think because my fantasy world is not a purely magical one, so many of the questions won't be as useful for me as they are to others), and hopefully, I can solidify my ideas and begin writing soon.
Because I do want to write. I crave it. But...I want to feel comfortable in my genre, too. One thing that I love about FIZZYPOP is that it makes me step outside my comfort zone and do something I'm not used to, forcing me to grow as a writer. But it also gives me a feeling like...I can do so much more. I
am
more. FIZZYPOP doesn't showcase the best of me, and for now, I have to let it go. If that even makes sense? Has a scenario like this ever happened to you?
That's how my week went! Do you have a WIP at the moment? What was your word count this week? To date? Let's support one another!