"I get books to read and then ultimately share my thoughts about with my readers. As much as I want to, I can't possibly read every book I receive. Yet, I still wanted a way to feature those books on the blog, even though it might not be in the form of a review. Problem solved! Every week I'd share the books I received that week... ones I'd bought, or gotten at the library, and ones that I'd receive to review on the blog. That way I could mention titles that might not otherwise get some face-time on The Story Siren..."
I find the same thing happening at A Backwards Story. I'm so backed up on reviews atm... That's why I like these videos!

READING NOW:
*
SHADOWS ON THE MOON
by Zoë Marriott
*PANDEMONIUM by Lauren Oliver
*CANDLEWAX by C. Bailey Sims [out April 3, 2012] (Again, I've been chipping away at this one very slowly. Gotta love the holidays...)

REVIEWED THIS WEEK (TWO WEEKS):

FEATURES THIS WEEK (TWO WEEKS):
Loot:
The Cinder(ella) edition!!!
Have you heard about the week-long event A Week of Cinderella that starts today?
All the info is
HERE
and you can also snatch up some awesome event grab buttons!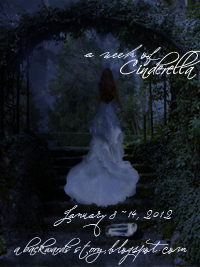 *
THE NAME OF THE WIND
by Patrick Rothfuss
*
WINTERLING
by Sarah Prineas
*
CINDER
by Marissa Meyer
(It's finally here!! *throws confetti everywhere and celebrates*)
*Various owned books featuring cover design by Jason Chan
*A SNEAK PEEK at some of the Cinderella re-tellings that will be featured during A Week of Cinderella
*Information on this week's event: A Week of Cinderella!!
What did you get in your mailbox this week?