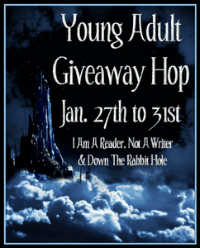 No, I'm not fully back online! I'm doing this from my phone. Please excuse any typos or weird errors or awkward formatting. I'm hoping that my Blogger app properly uploads the photo I took and embeds code in the correct fashion. Please let me know if anything's amiss!
Be sure to check out all the other sites that are a part of this weekend's Young Adult Giveaway Hop!
(If for some reason the above linky doesn't format/show up, please visit the blogs for our hosts I Am A Reader, Not A Writer and Down the Rabbit Hole for a full list of participants. Good luck!)
What has A Backwards Story chosen to give away? I'm so glad you asked!
You have your choice of EVERNEATH by Brodi Ashton or INCARNATE by Jodi Meadows!
They're both January 2012 debut novels...and they're both fun reads! I liked them so much that I pre-ordered finished copies of both, and I hope you will, too!
You may remember me saying that INCARNATE was one of the best books I read last year (alongside THE NIGHT CIRCUS by Erin Morgenstern and DELIRIUM by Lauren Oliver). It's one of my all-time favorite fantasy novels and is fighting with Kristin Cashore's GRACELING for first-place at the moment. High praise indeed, especially since I wasn't expecting to love it so much in the first place! I cannot WAIT to gush about it with you!!
EVERNEATH incorporates mythology in a unique way. The Greek myths we all know have SOME basis in fact--but not the fact that has been passed down in stories. Two of my favorite myths are twisted up in this novel along with a fresh, new story revolving around the world of the Everliving. It's so refreshing to discover a new paranormal being and not a rehash of anything in the market right now! I can't wait to review this book for Mythological Mondays once I can do full reviews again!
And now, enter to win!
(If for some reason, this form doesn't embed properly, just post in the comments below. Keep your fingers crossed that it works, though!)