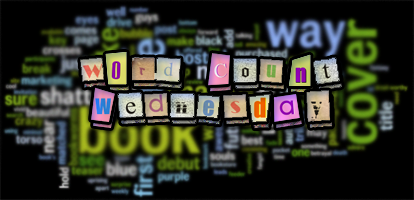 Word Count Wednesday is my way of sharing my weekly writing progress with you and holding myself accountable for not giving up.
So without further ado, this week's "Word Count" for Super-Secret Project/Codename: FIZZYPOP:
(Why Fizzypop? IDEK...it sounds fun!)

This week: I'm not sure...maybe 3? pages [I typed them write into my document instead of writing by hand in my notebook first...
Total to Date: 102? pages
Start Date: March 2, 2011
How far is this in terms of a word count? I'm not sure. I get 150-400 words per page depending on how small I'm writing and/or how many cross-outs I have. (Plus, that gets me an extra round of editing!)
Ugh, with our first major heat wave, I REALLY didn't want to do anything this week! LOL! I need to install my AC *soon.* Plus, this was a week where I wanted to read a lot of good books! IDK. Oh, and the book I've been reading this week features a main character who has the same name as MY main character. That kind of sucks. (Not the book I read; it was amazing!) I have to get this character out of my head before I can visualize MY character with the same name. I only finished the novel today, so it will be another day or two, I think...
The writing I did was small, but important. I went back to some of my earliest scenes and added a few key elements that were missing. I didn't even notice until my first response from my critique partner! Then, I read a book that used some of these elements and decided that they really DID need to be worked into my story, though I've been trying to refrain from a lot of description and "boring everyday stuff." I've also been doing a lot of thinking about how I want to lead up to the second "big moment" and pondering over when I want certain events to occur and what else to include between them. So while I didn't have a huge page count, I didn't stop thinking about this novel by any means!
That's how my week went! Do you have a WIP at the moment? What was your word count this week? To date? Let's support one another! This week, I hope you were as inspired as me!!!