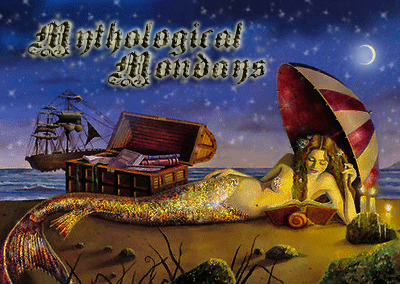 Mythological Mondays is a feature I created to spotlight books brimming with--you guessed it--mythology! I adore this sub-genre and can't wait to share my love with all of my fellow bookworms! This feature isn't just focused on novel reviews; it may also include interviews, looks at original mythological tales, etc.
Ever since the gods of Ancient Egypt were unleashed in the modern world, Carter Kane and his sister Sadie have been in trouble. As descendants of the House of Life, the Kanes have some powers at their command, but the devious gods haven't given them much time to master their skills at Brooklyn House, which has become a training ground for young magicians.

And now their most threatening enemy yet - the chaos snake Apophis - is rising. If they don't prevent him from breaking free in a few days' time, the world will come to an end. In other words, it's a typical week for the Kane family.

To have any chance of battling the Forces of Chaos, the Kanes must revive the sun god Ra. But that would be a feat more powerful than any magician has ever accomplished.

First they have to search the world for the three sections of the Book of Ra, then they have to learn how to chant its spells. Oh, and did we mention that no one knows where Ra is exactly?

Narrated in two different wisecracking voices, featuring a large cast of new and unforgettable characters, and with adventures spanning the globe, this second installment in the Kane Chronicles is nothing short of a thrill ride.

From Goodreads
Rick Riordan has really come into his own as a storyteller. His books are easy to devour, full of suspense and intrigue. There's never a dull moment to be had. Best of all, he's so methodical with research, reading his books makes you SMARTER. With his CAMP HALF-BLOOD books, I'd forgotten a lot of Greek/Roman mythology (or never knew it in the first place), so reading about Percy Jackson & Co. really opened my mind. This is even more true when it comes to THE KANE CHRONICLES. I know nothing about Egyptian mythology. I love every nuance Riordan throws our way. Reading THE RED PYRAMID last year and THE THRONE OF FIRE now, I have learned so much. I love these books!
While the two CAMP HALF-BLOOD series are still my favorites, I have a soft spot for THE KANE CHRONICLES as well. I love the alternating point of view between Carter and his sister Sadie. Whenever they bicker, it reminds me of days long past with my own siblings. Riordan excels at portraying their relationship. At times, the gimmick of using a recording device to tell the story gets old. I hate being pulled out of the moment because one of the siblings "says something" into the microphone at the beginning of a new chapter set or in brackets between paragraphs. At the same time, I can see the need for such a device with two POVs. Riordan's books are being put out so fast now, I've noticed that the last couple of books have let silly editing errors slip in. This also pulls me out of the story, but there weren't as many mistakes as the last novel, so it's getting tighter. Overall, the story is captivating enough to make these small errors easy to overlook.
THE THRONE OF FIRE once again takes us on a worldwide adventure with kids racing against time. This time, they're joined by new recruits, kids who have found the audio tape from THE RED PYRAMID and come to study with the Kane siblings at Brooklyn House. While none of the new kids are overly fleshed out, we do get to learn more about two in particular, especially Walt, a boy with a scary secret. I have a feeling that these characters will be fleshed out in the third book (Riordan has stated that he feels KANE will be a trilogy, but may go longer). Riordan also pulls on your heartstrings by bringing back characters from the first book in unexpected ways. Riordan is also deft when it comes to portraying the Gods and Goddesses. Expect the unexpected by everyone, be they previous friends or foes. The kids are too comfortable around the gods; when they bite back, the moments give readers chills. My favorite part is when the journey to find Ra actually *begins* and the magic begins coming together. The siblings must work together to once again save the world...for now.
COVER DESIGN:
After reading this book, I love the cover so much more! I already liked it a lot and looked forward to getting my greedy paws all over the shiny dust jacket. But now, everything about it makes sense. Sadie and Carter aren't in any only boat...and the scene highlights one of my favorite parts of the book. The title, THE THRONE OF FIRE, also makes a *lot* more sense now. I love that for this series, Riordan is choosing something important to name each book after, something you won't understand into you delve in.
This entry is part of
Logan E. Turner
and
The Unread Reader
's
All Male Review Challenge
(2011 Edition). See how I've done so far
here
.]