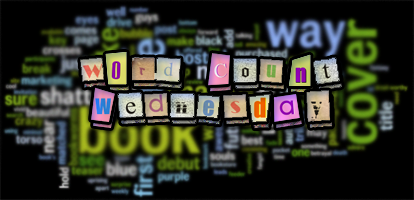 Word Count Wednesday is my way of sharing my weekly writing progress with you and holding myself accountable for not giving up.
So without further ado, this week's "Word Count" for Super-Secret Project/Codename: FIZZYPOP:
(Why Fizzypop? IDEK...it sounds fun!)

This week: 21 pages
Total to Date: 68 pages
Start Date: March 2, 2011

How far is this in terms of a word count? I'm not sure. I get 150-400 words per page depending on how small I'm writing and/or how many cross-outs I have. (Plus, that gets me an extra round of editing!)

In addition to the above, I also spent a lot of time putting together a school schedule. Readers might not ever know that History starts at 2 in the afternoon, but I need to know that so I have the proper timeline. My MC can't go from Bio to History one day and from History to Bio the next. This way, I know that both classes take place after lunch, which was actually important at one point. I didn't want my MC talking about certain events with THE BOY at lunch and straightening things out, which set the tone for how the rest of the day had to pan out. Plus, by cementing the schedule like this, I know how my periods and meals are structured. I'm still working on other aspects of school-life and have been visiting various school websites online. Yesterday, I started drawing some of the outfits my characters are wearing so I have a visual (poor as it may be) when writing. Tomorrow, I might do a color palette with hair/eyes/etc. because I find myself flipping back and forth at times for minor characters.

In other news, I got to do the first major scene with my "villain" before she's exposed, which was fun. I'm almost upon a scene I've had in my head a long time. It's happening in this chapter! I hope I get to write it tomorrow! *crosses fingers*
That's how my week went! Do you have a WIP at the moment? What was your word count this week? To date? Let's support one another!
...Right now, I'm exhausted. I have a post I've been trying to get to for a few days now... Maybe tomorrow? Sorry, bookworms!