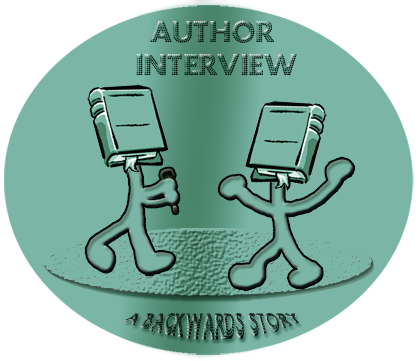 Hi Bookworms! I have a special treat for you today:
A Backwards Story
is hosting its first Author Interview. Lori Pescatore, author of the paranormal YA novel
Human Blend
, has been awesome enough to stop by for a visit!
Plus, to celebrate the first interview,
A Backwards Story
invited blog followers to come up with interview questions. Lori was awesome and answered every one!
If you haven't read
Human Blend
, stop by
this entry
to check out my review!
From Gina (at My Precious):
How did you come up with the idea for the book?
I came up with the idea of
Human Blend
just by thinking about a girl on the run. I didn't know from what or why until she began to tell her story.
This is the first in a series of books. How many books with be in the series. What are the intended release dates? Do you have titles for any of them?
There will be three books in the
Blend
series. Book Two,
Earth Blend,
is set for (fingers crossed editing gets done in time) a late April release. Book Three is untitled and will not be released until 2012. In between, I hope to release another separate stand alone book. More details on that to follow.
What audience did you intend this book for?
I intended this for a young adult audience, although the older ones because of the sexual (although not graphic) situations in the book.
How do you feel about e-readers and e-books?
E-readers and e-books rock. They are the future. I have a Kindle and read exclusively on it. Not to mention, the prices are a lot cheaper. Thanks for your great questions.
From Trish:
In terms of world-building, how long does it take you to create a world that is different from 'ours' and what is involved in it?
World building is a delicate task. Depending on if you are building a world within the world we live or one so far removed from the one we know, it can be tricky. For me, even though fantasy worlds are fiction, I feel the need to have it based in some reality. I feel it is necessary for me to get pulled in and believe the characters. Research for me is the key. Is this world or what happens in it an actual possibility somewhere down the road? My son is a scientist at heart and we regularly throw out scenarios of what may or may not be possible given the parameters of the world created. It is important to have rules even in the fantasy world. Great question.
From Steve:
Is turning known writing conventions on their heads something you would use in your writing? I guess the simplest example is the usual idea of antagonist and protagonist being subverted, where motives and actions fall outside the usual expectations of the reader.
I think turning the conventions of the usual writing around is a great idea. Whether a publisher or agent would agree with me is a different matter. In the self-published world I currently live in, I do not need to abide by set rules. This can either annoy or enjoy a reader. I'm always looking for something different or the same thing told unconventionally. A book in point is
Precious
. The entire book is written in broken slang and at times was a difficult read, especially with the subject matter, yet I feel it had to be written that way. Unconventional is something I do and would absolutely have no problem with.
How much of the writing of a character is inspired, and do your characters tend to, as happens for me, 'write themselves' as if you finds Laney aka Julie speaking through your fingertips like it is a collaboration?
Steve, I'm with you on this one. The characters tell the story; I just put it into format. Once they are introduced into the story, they take over, especially for the first book in the series. Sometimes I am unsure of what they will tell me next. I hope I was not amiss in not attaching the characters' names as co-authors.
From Nitya:
What got you into writing?
I've been writing my whole life. I used to do fanfiction for friends long before the internet (yes, showing my age). I also loved doing short stories and poems in high school. Even at Easter time when my kids were little, they had to solve riddles I made up to find the egg containing cash. LOL. I write whenever I can with whatever I can.
Do you have any tips for aspiring writers? Dos and don'ts, etc.
There are no "don'ts" in writing. Do believe in yourself and your story. Do market yourself until you can't see straight and do make sure you have a good editor. The first edition of
Human Blend
was still riddled with mistakes and typos even after three really good friends helped edit it. I now have an editor that costs me money but is so worth it and the second edition of
Human Blend
is tight.
Who are some of your favorite authors?
Some of my favorite authors are Dean Koontz, S.E. Hinton, Stephenie Meyer, and Maria Snyder. Thanks for your wonderful questions.
From Tamara
:
How many times a day do you check
Amazon
for reviews of your story? Do you even read reviews of your story? Why/why not?
As far as reviews go, I might check once a week. Sales are a different story. I'm approaching the 400 sales mark and want to be at 500 by June when
Human Blend
has been out for a year. Sales are checked at least every other day. Some sales are not reported right away though, so it's a nice surprise to find out thirty more books sold last quarter than I originally thought. Reviews are very important, but I find that most come from bloggers. They are my lifeline in the self-publishing world. I regularly check blogs for reviews of my book. I like reading the reviews. They helped me realize how badly I needed a professional editor, but even with that said, most of my reviews have been pretty positive. There are a few reviewers on
Goodreads
that were not thrilled with it, but again, mostly because of editing issues, not the storyline. The readers will tell you what is good and what is bad, but you need a backbone. Not everyone will like it and as an author, you need to accept the good with the bad.
And finally, I asked the question I know you're all waiting for...
Can you give us a sneak peek in regards to the sequel? Do you plan for the final book in the trilogy to come out in 2012? Will you be exploring the back story from before Human Blend begins? Will we find out more about why everyone has the special abilities that they do?
I would love to give you a sneak peek into the sequel.
Earth Blend
will actually begin as a prequel for the first six chapters, giving you some insight into the creation of the supernatural creatures in the story and how certain creatures came to be in the situation they are in. I'm very excited about it. It will, of course, pick up where the last story left off with the same wonderful characters and continue their saga. I do plan for the final book of the trilogy to be out sometime in 2012. I will be releasing some of
Earth Blend
on my
Facebook Author Page
.
There you have it, folks! I hope you enjoyed this interview! Check back soon for more exciting news!