At the beginning of each month, I like to point out upcoming titles that seem worthy of being read. Granted, this is just my opinion on books that I personally want to read. There are quite a few books coming out this month, both in hardcover and paperback, including
Delirium
, which you all KNOW I've been waiting to talk about! I did pretty well last month when it came to reading everything I bought. I think I still have three books to read. That's not bad!
DISCLAIMER:
I'm all over the place when it comes to genre, so there will most likely be books that don't appeal to you. There might also be something you're looking forward to not on the list. We're sure to have some titles in common, though! (There's also a good chance I won't get to every book I want to read, so if doesn't show up as a review here, it doesn't mean I didn't care for it! Plus, there are some books that I may want to look at due to a summary or cover image but may decide not to read because it's not *my* personal type of book, and that's okay, too. Still pointing them out early!)
S P O T L I G H T O N : D E L I R I U M B Y L A U R E N O L I V E R
Does this surprise anyone? I read an ARC of
Delirium
last year and fell in love with Lauren Oliver. I've followed the author since she did the Barnes and Noble First Look Club with her debut,
Before I Fall
, though that book didn't throw me through the ringer the way her new trilogy will. Look out for this one: I predict it will be one of the most popular Dystopian series on the market. It's about a society where love is a disease,
amor deliria nervosa
. When teenagers turn eighteen and "legal," they are required to have an operation that "cures" them. While it is similar to the recently-released
Matched
by Ally Condie, it's also vastly different. This is a true winner, bookworms!
o n e s t o w a t c h ( F e b . 2 0 1 1 )
F e b . 1 :

*A True Princess
by Diane Zahler: A new book by the author of
The Thirteenth Princess
(released in paperback last month). This novel spins a new version of
The Princess and the Pea
.
*Delirium
by Lauren Oliver: Featured above!
*Trapped
by Michael Northrop: I just found out about this novel today thanks to
Wendi's Book Corner
. Wendi also participates in Teaser Tuesdays; this was today's teaser (You can see her post
here
). It sounds perfect for this time of year. The novel is about some kids who are snowed in at school...and the snow doesn't stop for seven days straight. Wendi's summary makes me think the kids might go to
Lord of the Flies
or
Nothing
(my review
here
) lengths when they get desperate enough...
*The Winter Ghosts
by Kate Mosse: A lot of buzz has been growing for Mosse since the release of internationally-acclaimed
Labyrinth
in 2005. I enjoyed both
Labyrinth
and
Sepulchre
, so I can't wait to read more by this author!
[Release Date: Feb. 3rd]
*Words
by Ginny Yttrup: This debut novel sounds so sad. It's about a young girl who has been abused to the point where she no longer speaks despite her fascination with words.
F e b . 8 :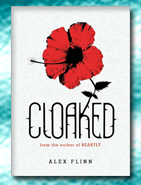 *Cloaked
by Alex Flinn: Another lovely fairytale mash-up from Flinn. Her first novel set in the world,
Beastly
, is about to be a major motion picture. You may have already seen the trailers for it. I know I have. :)
F e b . 1 5 :

*Angel
by James Patterson (7th in
Maximum Ride
series): I have been waiting a year to find out what happens next.
Fang
ended on such a cliffhanger! I love the fact that Patterson is really focusing on this series himself and not co-writing. I only hope the cliffhanger this time around isn't as bad!
[Release Date: Feb. 14th]
*Angelfire
by Courtney Allison Moulton: A much-buzzed about debut novel. I haven't had time to read my ARC yet, but hope to do so soon. The cover brings strong kick-ass females such as Buffy to mind, though instead of slaying vampires, Moulton's heroine uses angelfire to combat reapers preying on human souls...
*Outside in
by Maria V. Snyder: I love supporting local authors. Snyder was gracious enough to visit my local B&N this past summer while promoting
Inside Out
, her debut teen novel. She's written several adult romances.
Outside In
is the sequel to
Inside Out
; both are Dystopian novels.
*Rivals
by Sara Bennett Wealer: Another debut author. This cover is beautiful and eye-catching. The synopsis seems like an episode of
Glee
: It follows the bumpy path of two rivals competing for a music scholarship.
F e b . 2 2 :
*Haven
by Kristi Cook: Previously known as Kristina Cook for her adult romances, this is Cook's debut YA novel. The book centers around a teenager whose premonitions always come true. No one believes her, though...until she enrolls in a new school and discovers that not only isn't she alone in her abilities, but something dangerous is lurking just out of reach...
*Orchards
by Holly Thompson: Last debut author of the month, bookworms! This one is about a Jewish girl who is half-Japanese. After the MC and her friends say some things that may have led a classmate to commit suicide, she's shipped off to Japan in the hopes that she'll "straighten out." Since she isn't "truly Japanese," she has trouble fitting in, but manages to blossom as she learns more about her heritage. Having lived in Japan for two years and been an "outsider," I'm eager to see how Thompson tackles the subject.
Tortall and Other Lands: A Collection of Tales
by Tamora Pierce: New Tamora Pierce! 'Nuff said. Plus, this book is a collection of stories that take place in Tortall, a land full of my favorite books by Pierce. She hasn't released anything new for close to two years now, so I'm eager to read her latest work while awaiting the launch of
Mastiff
later this year.
P a p e r b a c k s :
I read all of the following books when they came out in tradecloth, so hopefully you'll check them out now that they're at a more affordable price. I know I was waiting to purchase a couple in paperback myself!

*Cybele's Secret
by Juliet Marillier: Adult fantasy author Marillier tries her hand at YA fiction for the second time in the companion to
Wildwood Dancing
, a rendition of the classic fairytale
The Twelve Dancing Princesses
. The novels take place in Transylvania. Like she did with the sequels to
Daughter of the Forest
, this book isn't directly based on a fairytale, but an original tale set in the original "fairytale world" set up in book one.
Emily Windsnap and the Siren's Secret
by Liz Kessler: The fourth and (for now) final novel revolving around Emily Windsnap, a girl who is half-human, half-mermaid. I had the good fortune of meeting Kessler in the fall of 2009 at my local B&N, where she read a sneak peek of at this at-the-time upcoming novel. She said that the series was originally supposed to be a trilogy, but so many fans wrote to her that she made one more book just for them.
The Girl Who Chased the Moon
by Sarah Addison Allen: The paperback edition of this novel has a lovely new cover. I think I prefer it to the original! I originally picked up this novel because the title caught my attention and the inside flap mentioned "hummingbird cake." I wanted to know what that was! This is a whimsical book about a woman who moves back to her mother's hometown to place her affairs in order. She delves into the secrets of her mother's life and realizes that the town has more to offer than what initially meets the eye.
Hannah: Daughters of the Sea #1
by Kathryn Lasky: Lasky is a staple in YA literature. I read her books when I was younger and still read them now. This past fall, Lasky achieved fame with her middle-grade series
Guardians of Ga'Hoole
when a movie based on the books,
Legend of the Guardians
, now on DVD. Her new middle-grade series,
Wolves of the Beyond
, is also experiencing strong sales at the moment. It would be wonderful if her latest teen series,
Daughters of the Sea
, also does well. The second book,
May
, will come out next month. This is the second mermaid book to be re-released as a paperback this month!
Incarceron
by Catherine Fisher: The first in a two-part Dystopian series. The second book,
Sapphique
, came out at the end of December.
Incarceron
is about to be a movie, too. Casting has already begun. The duet is often recommended for fans of
The Hunger Games
. Plus, they have gorgeous covers. Win, win! (I really need to read
Sapphique
soon...)
White Cat
by Holly Black: I didn't review this one last year because
Red Glove
is coming out in April, but it was fantastic. I had a lot of trouble putting this one down. The novel is based on a fairytale entitled,
The White Cat
. You can read both the
Andrew Lang version
or the
Madame D'Aulnoy rendition
of the tale online for free. Black's novel is based around a family of Curse Workers and a society that treats such families as the mafia. Very intriguing and original spin on the tale!
So, which books are you looking forward to this month, Bookworms? Any of the above? Something I totally missed? I'm glad last month's book drought is over, aren't you?