Don't miss my awesome interview with STORM SIREN author Mary Weber!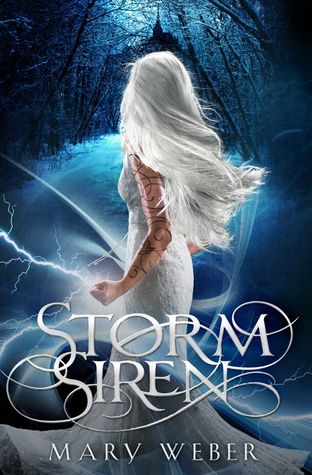 F
OURTEEN CIRCLES FOR fourteen owners."
I shade my eyes to block the sun's reflection off the distant mountains currently doused in snow and smoke and flesh-eating birds. The yellow flags above me snap sharp and loud in the breeze as if to emphasize my owner's words that yes, she's quite aware such a high count is utterly ridiculous.
Waiting for it...
"Fourteen?" the sweaty merchant says.
Ha! There it is. Eleven years of repeatedly being sold, and it's sad, really, how familiar I've become with this conversation. Today, if Brea has her way, I will meet my fifteenth, which I suppose should actually bother me. But it doesn't.
(Page 1, US ARC edition)


If, like me, you first saw STORM SIREN and thought it was going to feature our favorite underwater tailed characters,
you'd be wrong
. It does, however, deal with elemental magic, and that's still okay in my book!
Nym grew up believing herself to be a monster. No one wants her. She's an orphan thrust in slavery, bounced from one owner to the next. Every time she becomes someone's new "possession," she receives another tattoo around her wrist. She's now onto her fifteenth owner, and people are wary of her. She believes that she is cursed, and that she kills everyone around her, bringing bad luck wherever she goes. Having never known her heritage, Nym has no clue about the truth behind the power she possesses. If she can get it under control, she has the potential to save her kingdom. If she can't, she'll destroy everything and everyone.
Elemental novels have been done before. But something always draws me back to them, again and again and again. The Uathúils brought so many new ideas to the table, and I loved reading about them and their abilities. It will be interesting to discover even more of what they can do in future books. They helped STORM SIREN separate itself from the pact. It's not just "another elemental novel."
With all of the talk lately about Diversity in YA, I was thrilled to see that STORM SIREN featured so many diverse characters. Disabled characters, colored characters, insane characters. I asked author Mary Weber about their development
during our interview
and loved the fact that they were integrated naturally without just "being there" to fill a quota. This is exactly what we need right now, and exactly what the movement is pushing for. I think a lot of people will be pleased with this aspect of Weber's novel!
~

*

~
C

O

N

T

E

N

T R

A

T

I

N

G

S
Content Ratings: highlight between ( ) for details
**No rating for this book. I read it before I had a rating system in place and I just don't remember. Sorry! *hangs head*
What I like the best about this cover is the way it helps me envision Nym in my mind. I see her as this girl. She looks so unearthly, and it's easy to see why she frightens so many people!
There's also a lot of power on the cover, which caught my attention from the very beginning. Again, I love the elements!
I'm also a huge fan of the treatment used for the title. That font is gorgeous. I want it for my collection!
Author: Mary Weber
Release Date: August 19, 2014
SUMMARY:
"I raise my chin as the buyers stare. Yes. Look. You don't want me. Because, eventually, accidentally, I will destroy you."

In a world at war, a slave girl's lethal curse could become one kingdom's weapon of salvation. If the curse—and the girl—can be controlled.

As a slave in the war-weary kingdom of Faelen, seventeen-year-old Nym isn't merely devoid of rights, her Elemental kind are only born male and always killed at birth — meaning, she shouldn't even exist.

Standing on the auction block beneath smoke-drenched mountains, Nym faces her fifteenth sell. But when her hood is removed and her storm-summoning killing curse revealed, Nym is snatched up by a court advisor and given a choice: be trained as the weapon Faelen needs to win the war, or be killed.

Choosing the former, Nym is unleashed into a world of politics, bizarre parties, and rumors of an evil more sinister than she's being prepared to fight . . . not to mention the handsome trainer whose dark secrets lie behind a mysterious ability to calm every lightning strike she summons.

But what if she doesn't want to be the weapon they've all been waiting for?

Set in a beautifully eclectic world of suspicion, super abilities, and monsters, STORM SIREN is a story of power. And whoever controls that power will win.
a Rafflecopter giveaway