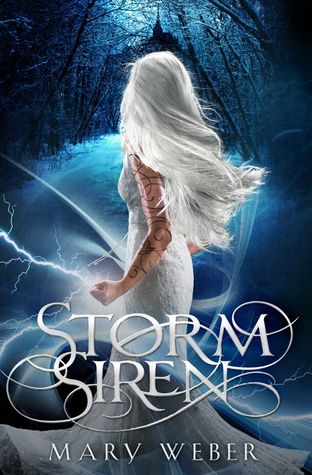 Storm Siren
(Storm Siren #1)
by
Mary Weber
Publisher: Thomas Nelson / HarperCollins
Release Date: August 19th 2014
Synopsis:
"I raise my chin as the buyers stare. Yes. Look. You don't want me. Because, eventually, accidentally, I will destroy you."
In a world at war, a slave girl's lethal curse could become one kingdom's weapon of salvation. If the curse—and the girl—can be controlled.
As a slave in the war-weary kingdom of Faelen, seventeen-year-old Nym isn't merely devoid of rights, her Elemental kind are only born male and always killed at birth — meaning, she shouldn't even exist.
Standing on the auction block beneath smoke-drenched mountains, Nym faces her fifteenth sell. But when her hood is removed and her storm-summoning killing curse revealed, Nym is snatched up by a court advisor and given a choice: be trained as the weapon Faelen needs to win the war, or be killed.
Choosing the former, Nym is unleashed into a world of politics, bizarre parties, and rumors of an evil more sinister than she's being prepared to fight . . . not to mention the handsome trainer whose dark secrets lie behind a mysterious ability to calm every lightning strike she summons.
But what if she doesn't want to be the weapon they've all been waiting for?
Mary Weber
While novels about elemental powers aren't a new concept, the way you went about creating Uathúils was fresh and unique. Can you talk about what went into their creation as you brought your world to life?
Oh I'm glad you think so! Yay!! The idea for the Uathúil powers originally came from a poem called St. Patrick's Breastplate, in which Patrick calls forth elements to use as a shield. That's where Nym's, Colin's, and Isobel's abilities developed out of. However, I also knew I wanted some mental powers as well, and since my sister is a huge fantasy addict and my husband a superhero geek, we spent hours hashing over the other Uathúils – creating everything from each one's strength to their weakness (as well as how they would react to others' powers).
STORM SIREN is the first in a trilogy. Can you tell us a little bit about what to expect in future books?
I think we'll see Nym grow further in herself and in her relationships. We'll also see more of Myles, Rasha, Isobel's wraith army, and the kingdom of Bron. Anything (or anyone!) beyond that…and my lips are sealed. :0)
I really liked the way you introduced Nym's trainer, the gorgeously dark Eogan. With all the talk right now on Diversity in YA, I think he's going to stir up some great attention when readers meet him. So is Breck; we don't have enough YA characters with true disabilities with interesting stories to tell. I also love that Colin is bald and that Nym has startlingly white hair. Even Adora has a unique look that defines her insanity. Everyone is so different and defined. How did you come up with who they were and how you wanted to portray them?
Aw thanks!! And this is an intriguing question since I absolutely LOVE characters who are eccentric in personality (they're so fun), but for the most part I didn't purposefully write them to be "diverse." I live in Southern California, where, not only do many of my friends and family members have special needs, but our communities are full of wonderful ethnicities. I think I mainly just wrote the characters as they came to me (Breck with her disability, Eogan with his skin color, etc.) – almost more of a reflection of reality than anything. That said…once I HAD written out the characters and I took a step back – I realized it was definitely something I wanted to represent. Diversity is a beautiful thing and showing that in YA is so very important. We have this entire world of incredible people, and I think the fact that you and I are even aware of the need for better representation says that our culture still has a ways to go. But I believe we're getting there. :0) (On that note – a book I love for its inclusiveness is Kersten Hamilton's TYGER TYGER. Her character, Lennie, is hands-down my favorite ever.)
If you could have any elemental power, what would it be...and why?
The earth-shattering power to make my son clean his room. (Seriously - have you seen the hot mess that is most boys' bedrooms?) *shudders*
Who are some of the writers/what are some of the books that have inspired you and influenced your own writing?
As far as writers go, Jay Asher (along with his cool wife JoanMarie) and Marissa Meyer have definitely influenced me over the years. Not only are they funny, but they're incredibly kind-hearted, and I so appreciate the encouragement they've given. In regards to books, Jay's 13 REASONS WHY is outstanding in its ability to tell a story while influencing the heart of culture, and Marissa's Lunar Chronicles series has pushed forward the role of fabulous, tough heroines in YA. Mary E. Pearson, Lauren DeStefano, Tahereh Mafi all create beautiful prose I drool over, and, of course, I'll read anything Rowling, Suzanne Collins, and Maggie Stiefvater write. As far as old-school authors go, Agatha Christie and the Bronte sisters rock my world. :0)
Is there a story behind your cover design process? It's striking, and really helps me envision Nym!
Oh yay that's fun to hear (and sweet of you to say)!! Okay, so one of the hundred ways in which my publisher is awesome is that they allow their authors input on the cover art process. There's this back and forth in which we get to send suggestions on everything from color schemes to characters. I knew I wanted Nym and her powers on the front but that was about all my brain could conjure up. Storm Siren's designer, Kristen Vasgaard, created a mock-up version of how she envisioned the cover, and before I knew it, she blew my mind. I love her and the team!!
YouTube Link
There are few things more exciting to discover than a debut novel packed with powerful storytelling and beautiful language. Storm Siren is one of those rarities. I'll read anything Mary Weber writes. More, please! - Jay Asher, New York Times Bestselling Author of Thirteen Reasons Why
Weber's debut novel is a tour de force! A story of guts, angst, bolcranes, sword fights and storms beyond imagining. Her heroine, a lightening-wielding young woman of immense power and a soft, questioning heart, captures you from word one and holds tight until the final line. Unwilling to let the journey go, I eagerly await Weber's (and Nym's) next adventure - Katherine Reay, author of Dear Mr. Knightley
A riveting read! Mary Weber's rich world and heartbreaking heroine had me from page one. You're going to fall in love with this love story - Jospehine Angelini, internationally bestselling author of the Starcrossed trilogy
Elegant prose and intricate world-building twist into a breathless cyclone of a story that will constantly keep you guessing. More please! - Shannon Messenger, author of the Sky Fall series
Mary Weber has created a fascinating, twisted world. Storm Siren sucked in from page one - I couldn't stop reading! This is definite must-read, the kind of boo that kept me up late into the night turning the pages! - Lindsay Cummings, author of The Murder Complex and The Firs of Calderon
Intense and Intriguing. Fans of high stakes fantasy won't be able to put it down - C.J. Redwine, author of Defiance
Officially though: Mary Weber is a ridiculously uncoordinated girl plotting to take over make-believe worlds through books, handstands, and imaginary throwing knives. In her spare time, she feeds unicorns, sings 80's hairband songs to her three muggle children, and ogles her husband who looks strikingly like Wolverine. They live in California, which is perfect for stalking L.A. bands, Joss Whedon, and the ocean. She likes orange trees, tattoos, and ALL the music. ;0)
BOOK 1 in my YA fantasy
STORM SIREN
trilogy releases Aug 2014 from Thomas Nelson, HarperCollins. Eep!
Win (1) of (5) copies of Storm Siren by Mary Weber (US Only)
a Rafflecopter giveaway